Shilo Farms
The Joy is in the ride!
Directions Horse Trail Rides Madison Indiana Ride Questions Home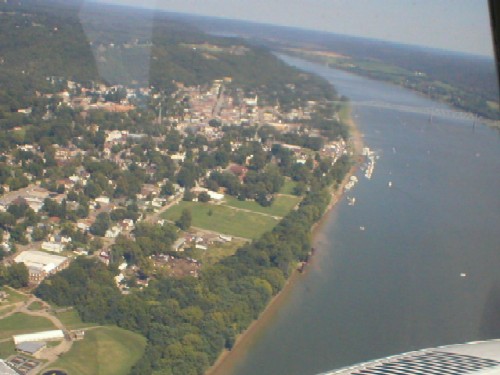 Madison, Indiana
Nestled in the hills of Jefferson County on the north bank of the Ohio river, you will find Madison, Indiana. A picturesque town filled with history! Just a short drive from Cincinnati-Ohio, Louisville-Kentucky and Indianapolis-Indiana. I like to call it an Antique type town with a large history. Filled with great antique shops and malls. Small local owned specialty stores, great restaurants, historic homes and a great view! Not to mention local wineries.
Madison is home to some great annual festivals & events. The Madison Regatta, Chautauqua, Ribberfest, and many more! Make a trip to one of our family wineries! Great local golf courses too!!
Life made simple, a small town with friendly people! Why not plan a trip to visit our farm, go horseback riding, and spend a few days in a neat town with lots of history!
There are many other great hotels, motels, bed & breakfast, historical homes, cabins, and plenty of camping at Clifty State Park.
Be sure to check out the Madison Visitor Website (link below). They have all sorts of information on things to do while your here!
---
Madison Indiana Visitor Website **Be sure to check this site out!
Great site, full of information on Madison! Links to area business, hotels, bed & breakfasts, festivals, restaurants, and much, much more! You'll also find a list of local events! Most weekends, there is something going on around here! This website is a must for anyone traveling to Madison!
Below I have a few things listed, but be sure to use the link above for a more in depth description of Madison. Also feel free to call them at 800-559-2956. Everyone who works down there is very helpful!
Madison Historic District Website... Great site to get a feel of downtown.
http://www.madisonhistoricdistrictshops.com/
---
A few of our favorite restaurants- Madison is full of great places to eat and by no means is this all there is! Please note, not all the hours and times could be correct.
Sakka Blue Japanese Bistro & Sushi Bar (812-274-2583)
719 W. Main Street (yummy)
Crystal & Jules
605 Grille -
They use a lot of local grown products. Actually, one of our neighbors sells them their beef. Nice local owned place with great food.
The Electric Lady (812) 265-3390
Probably one of our favorite places to go! Love the people there! Weekends they have live music! 21 and over. During the day, more of a bar and grill and nights weekends night club!
http://www.electricladymadison.com
Madison Lighthouse Restaurant 812-265-3280
Dine on the river! Outside deck seating. Docking available.
Mon-Sun 11am-10pm Bar open later
Great food, great atmosphere!
Downtowner 812-265-4343
Great soups, sandwiches, salads & desserts. Made fresh daily. Madison's most recommended eatery.
Mon-Sat 10:30am-8pm, Sun 11am-4pm
Hammond-Family Restaurant- 812 265 3237
221 East Main Street
The best breakfast place around! Good food, cool place to eat! And great prices!
4:30AM - 2:00PM Monday/Friday 4:30AM - 1:00PM Saturday Closed Sunday

The Red Pepper 812 265 3354 and Red Pepperoni (across the street)
Deli~Cafe~Catering 902 West Main Street
Monday To Thursday 10:00A - 8:00P Fiday & Saturday 10:00A - 9:00P Closed Sunday
Hinkle's Hamburgers 812 265 2919
Monday & Tuesday 6:00A - 10:00P
Round The Clock
Wednesday 6:00A To Sunday 4:00A
Closed Sunday
Great food! Perfect late night place! Kind of like White Castle
The Bistro One Restaurant 812 273 9448
Madison's Upscale Restaurant AAA Diamond Award
Reservations Suggested
Dinner: Monday/Saturday 5:30P to 9:30P Closed Sunday
---
Local Wineries--
Madison Vineyards 812-273-6500
International award winning wines. Free tasting. Beautiful setting.
New Bed & Breakfast!! Also has a separate cottage type place available.
Very nice people!!
Mon-Sun,10pm-5pm
http://www.madisonvineyards.com/HOMEPAGEx.html
The Thomas Family Winery 812-273-3755
Offering traditional wines and ciders, old world breads and cheeses in a pub-style setting.
Fun place! Good wine, good people..
Mon-Thu 11am-6pm, Fri-Sat 11am -9pm, Sun 12pm-5pm
http://www.thomasfamilywinery.us/
---
Activities and things to do....
NEW THIS YEAR!
Wild Thing Jet Boat Rides, LLC
We haven't rode this yet, but have heard it's a blast! Jet boat trips on the Ohio River. Piloted by Coast Guard licensed Master Captains! You're safe!! You can choose a scenic ride or fast and crazy ride!
812-701-1155
Cozy Acres Golf Course - 812-273-3137
Open 8 am - Dark Daily

Executive 9 Hole Par 3 Course,

18 hole Miniature Golf Course

Driving Range w/ covered tee boxes

Fully Stocked Pro Shop, great prices!

Custom Made Clubs

Buy, Sell & Trade Clubs

Club Repair and Refinishing on site

Personal & Group Golf Lessons

Weekly Scrambles

Lots of fun for the whole faimly!
Crystal Beach Pool 812-273-6268
Built in 1938 by The Works Progress Administration. Historic bathhouse. Half-moon shaped pool slopes from ankle deep to 9 feet.
12pm-5pm daily - Memorial Day to start of school.

Madison Public Boat Ramp
Located on the riverfront at the foot of West Street.
Open year round. No charge
Clifty Falls State Park
Open all year; admission charged Mar-Sept.
The park offers several picnic areas, a nature center offering seasonal programs, an Olympic Size swimming pool, RV and primitive campsites. Hikers can enjoy trails ranging from "easy" to "rugged" and behold deeply cut gorges, sheer rock walls and plunging waterfalls.
Lanier Mansion 812.265.3526
Lanier Mansion is the former home of pioneering businessman James Franklin Doughty Lanier. Visitors will learn more about Lanier's life as well as life in general during the 1800s.

The Lanier Mansion is open daily. Guided tours start at the top of the hour at regular intervals between 9 a.m. and 5 p.m. (the last tour starting at 4 p.m.).

The Lanier-Madison Visitors Center is open Monday through Saturday, 9 a.m. to 5 p.m. and Sunday from 11 a.m. to 5 p.m. The administrative offices are open Monday through Friday 9 a.m. to 5 p.m. The Visitors Center is closed on Easter, Thanksgiving Day, Christmas Day and New Year's Day.
Heritage Center and Rail Road Museum (812) 265-2335
615 W. First St. Madison, Indiana 47250

MAY

1 –

OCTOBER

31 Monday-Saturday :: 10am-4:30pm Sunday :: Closed

---
A few festivals that are fun--
Canaan Fall Festival Mid - September
Friendship Shoot and Flea Market 2nd & 3rd full weekends of June and September
This is one of the largest Flea Markets we've ever been too! And it's way cool! Great stuff and people!!

The Flea Market is located just one mile east of Friendship, Indiana on St. Rd. #62 and has 2 – 9 day shows every year in June and September, the same days as the National Muzzle Loading Rifle Association hold their Spring and Fall Shoot. The show always falls the 2nd full weekend through the 3rd full weekend of June and September. The market opens daily at 9AM and the attendance swells to heavy on the weekends. During the week, it is easier to move around and browse the displays.

National Muzzle Loading Rifle Association has all sort of competitions and displays! People from all over the country come to compete! A must see if you are in town!
http://www.friendshipfleamarket.com
Madison Chautauqua Festival of Art - Late September
Where the streets of Madison transform into a huge Arts & Craft show! From stained glass art, pottery, pictures, paintings, sculptures, antiques, and much more! Live concert performances on the Lanier Mansion lawns. Not to mention the great food!
http://www.madisonchautauqua.com/
Madison RibberFest - Barbeque, Blues and Balloons Mid-August
http://www.madisonribberfest.com/
---
Other neat local websites-
Madison Came Running.com
Great local website! Pictures of Downtown Madison Riverfront, people, Riverboats including Hydroplanes and the Delta Queen!! Information on all things Madison! Calendar of events, local sports information, Indiana State Troopers, along with Local Police Departments. This is a great site with lots of great pictures! Please take some time to enjoy it!
http://www.madisoncamerunning.com
Have a local website you would like to add! Just email me at jenny@shilofarms.com